Serving Our Community and the World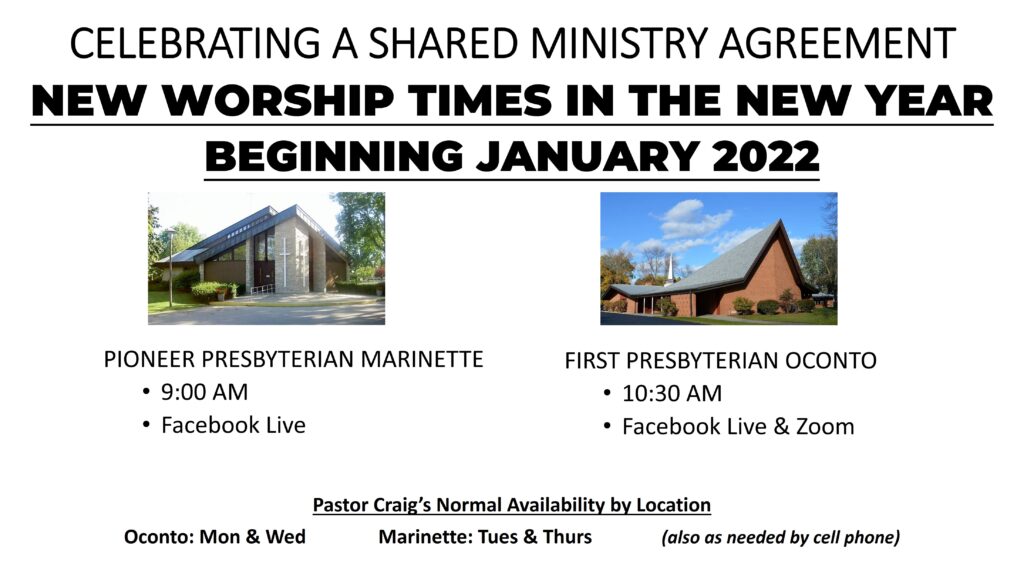 Keep Up With Us
Newsletters & Announcements
Stay in touch with our monthly newsletters!
Browse our announcements and blogs!
Welcome Words From Pastor Craig
(aka Rev. Craig R. Alwin)
I'm glad that you found us, and would love to hear your story! We are a diverse community of Christians, blessed by God with unique gifts, who gather in the name of Jesus Christ to celebrate His life, death, resurrection and saving grace. We are formally referred to as First Presbyterian Church, but like most of Oconto we go by various nicknames, such as the Presbys or the Ding-a-Lings (for our hand bell and hand chime ringers). I grew up on a small family farm in southern Wisconsin, am married and have three children. I'm currently in my final year of a Doctor of Ministry program, focused on "Leadership in a Changing Context." In my 12-plus years serving as pastor with this group of amazing people, we continually seek new ways to worship God, build one another up in Christ, serve the community, and support ministries around the world. I invite you to come, and help us learn more about what it means to be God's people gathered together in this time and place.
Online Services
At the onset of the global COVID19 pandemic, we quickly adapted and implemented online connection
options – including options for those without computers or internet access. Our goal is to encourage
everyone to safely and confidently gather together as the Body of Christ. Remember, Church is not
where you are, but who we are together. Please join us to share in worship.
Our Session continues to update our in person meeting guidelines based on the CDC's most recent
recommendations. As of September 2021, we continue to welcome mask usage at any time, but are not
requiring masks if you are fully vaccinated. We ask that everyone continue to honor social distancing for
family groups as much as is possible. We want to continue to living out the Biblical command to live with
respect for all. As such, we expect everyone inside our building to honor the wishes of those who prefer
mask usage or extra distance in their presence.
For those who choose to gather online, we continue to offer a live connection via Zoom. This allows
connecting for worship with either a computer, smart phone, or even dialing in with a land line! You can
get the connection details by contacting the church office or any member. We are also live
streaming the entire service on our Facebook page.
Hand sanitizer and disposable face masks will continue to be available. Additionally, as the weather permits,
we will be opening the sanctuary windows and running the air exchanger to bring in fresh filtered air during worship,
so please dress as if you were worshipping outside.
Please remember, our Session may, at its discretion, revise or adjust these procedures as they see the
need based on public health guidance and the situation of our local context.