Please join us as we celebrate Holy Week and the resurrection during worship via Facebook Live, via Zoom (contact a member for the Zoom link) or in person (with a mask, socially distanced, and no singing).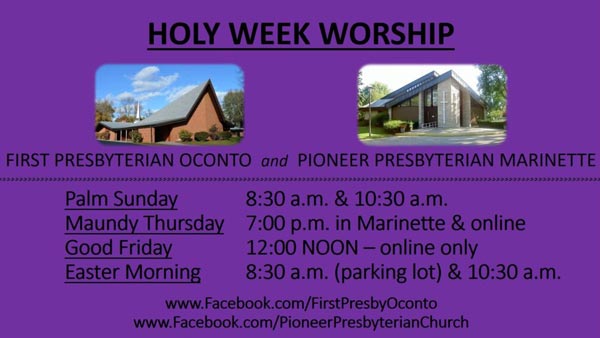 Maundy Thursday service will be at 7:00pm at Pioneer Presbyterian Church in Marinette WI and online via Facebook Live and Zoom.
Good Friday service will be online only, via Facebook Live and Zoom.
Easter Sunday worship in Oconto will be in the parking lot, and broadcast to your vehicle's FM radio (thanks to WOCO for use of their low power transmitter) or you can bring a chair and brave the cooler temps. Check back here if weather gets bad and we are not able to meet outside yet.
Holy Communion is available to all who believe in Jesus Christ on Maundy Thursday (at Pioneer Presbyterian Church) and and Easter Sunday at both churches during the regular worship times.